CCEE Distinguished Alumni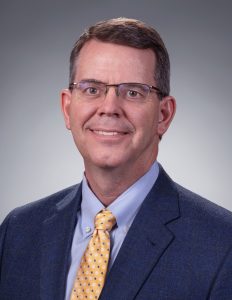 Innovation in the construction industry, distinguished leadership on high-impact projects
Inducted 2023
Scott Higgins graduated from Iowa State in 1983 with a bachelor's degree in Construction Engineering. In 1985, he graduated with a master's degree in Civil Engineering as the first CCEE master's student with a construction engineering emphasis. He has spent over 35 years gaining valuable career experience in a variety of roles and has shared the passion for his work through teaching courses at multiple universities.
Higgins grew up close to the construction industry and worked after school and summer breaks through college for his uncle's firm.  He began his professional construction career as a Project Engineer at Pepper Construction Company. After his second project, Higgins' passion for engineering was clear, and he was noticed early on as an outstanding engineer.  As his experience and expertise grew, he became a leader at Pepper Construction, guiding many projects and teams to estimate and manage work. In 2004, he was asked to formally organize Pepper's Preconstruction Group.  Higgins' leadership was demonstrated by consistent results and data collection through the 2009-2010 financial crisis, the COVID-19 pandemic, and other unprecedented events. Currently, Higgins is the Senior Vice President of Preconstruction for Pepper Construction, providing valuable strategic insights, accurate estimating services, and a foundation that effectively sets project teams up for success.  He is known by his colleagues as one of the foremost experts in preconstruction services today.
Higgins has led preconstruction projects across the Midwest including Chicago landmarks Wrigley Field and the Palmer House hotel as well as at numerous universities, health care institutions, and many others.  In total, he has led or participated on over $4 billion of completed work.  In addition to the preconstruction work at the renovation and historical restoration of Wrigley Field, he was also tasked with being part of the on-site executive management team for nearly six years.  Alongside Higgins' high-impact and high-stakes work as a leader for Pepper Construction, his passion for teaching and education remains strong. Higgins worked for 12 years as an adjunct professor at Northwestern University teaching construction estimating in the Master of Project Management program at the Kellogg School and helped develop and teach an on-line course for Purdue University on Preconstruction Project Management in their distance learning program through the Purdue Polytechnic Institute. He has been a guest lecturer at Iowa State numerous times and hopes to continue to do more with Iowa State in the future.  Beyond Construction Engineering, Higgins is an avid Iowa State fan and football season ticket holder.  He is also involved with the Iowa State Foundation as a member of The Order of the Knoll and Marston Club.