Distinguished leadership and innovation in the concrete industry through consulting and the American Concrete Institute
Inducted 2022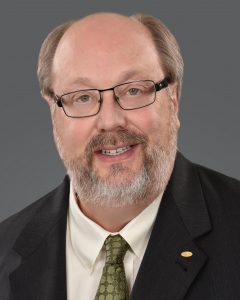 Ronald G. Burg graduated with his bachelor's degree in civil engineering in 1977. Gradually, Burg became an expert in construction materials — specifically concrete and cementitious-based materials.
He served as the Vice President and Materials Group Manager of the CTL group for nearly 30 years and has been an expert witness on cases with concrete performance. Burg was called to be the Executive Vice President of the American Concrete Institute (ACI) in 2010 and has been serving ACI ever since.
Under his leadership, he has moved the ACI foundation to a multimillion-dollar supporter of research and providing opportunities for many. Burg has also established the Center of Excellence for non-metallic concrete reinforcing — creating and executing a new business model for ACI. Due to the COVID-19 pandemic, ACI hosted virtual conferences led by Burg; the virtual conventions held record attendance and allowed people from all over the world to attend.
At Iowa State, ACI created the Burg-Coleman Iowa State '77 Fellowship through funding from Burg and Jeffery W. Coleman, both 1977 civil engineering alumni and presidents of ACI. This fellowship prepares Iowa State engineers for the real world and supports passions for the concrete industry.