International impact in structural engineering, notable contributions to education, research, professional societies
Inducted 2022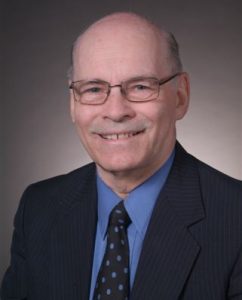 Max Porter has been a Cyclone Engineer since receiving his bachelor's degree in Civil Engineering in 1965; he went on to get both his master's and Ph.D. in Civil Engineering at Iowa State. Porter, now retired, was a professor at Iowa State for 51 years building from Teaching Assistant to University Professor Emeritus.
He has taught 36 courses on campus and many off campus in his career, giving students real-world research experience by employing nearly 500 students in over 100 research projects. Porter has earned over 67 career awards and honors during his successful career.
Outside of Iowa State, Porter is an accomplished Structural Engineering Consultant, working with over 30 firms. He has worked internationally with the Structural Engineering Institute in a US-Japan research program funded by the National Science Foundation. Porter has a total of 1612 publications, reports, reviews and presentations. He has also given his time to several organizations with 128 officer and committee positions in his career.
In his words, he has been busy flunking retirement. The past ten years (since retirement from ISU), he has been performing structural engineering accreditation assessments for the International Accreditation Services (IAS) – affiliated with the International Code Council (ICC). He is currently the Chair aka President of the ISU Retirees Association.
He has been active in the ASCE Codes and Standards Committees and has chaired seven of those major ones. Currently, he is chairing the Fiber Composites and Polymer Standard (FCAPS) ASCE 74 which is in its public ballot phases after 10 years.