CCEE Distinguished Alumni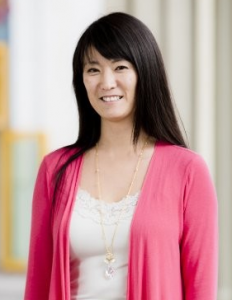 International impact and leadership in the transportation industry, development of innovative transportation methodologies
Inducted 2023
Karen Giese graduated in 1998 with a bachelor's degree in civil engineering and in 2001 with a master's degree in civil engineering, with an emphasis on transportation engineering. With over 20 years in the transportation industry, Giese has worked for nationally and internationally based engineering and transportation technology firms.
After graduation, Giese joined Kittelson & Associates, Inc., working as a senior traffic engineer and engineering associate on projects across the U.S. Early in her career, Giese put her research into practice through work on National Cooperative Highway Research Program projects. Giese then applied this experience to the technology sector, as she began working for PTV Group, a company focused on transportation software. Here, she moved up to a vice president role and stayed with the company for nine years, ultimately overseeing the commercial viability of industry-leading products globally. Her career continued to climb as she became known for developing integrated solutions across technologies and divisions, allowing unique approaches to mobility and safety. Now, Giese is the Vice President for United States Business Development and the head of the Traffic Safety business unit for Transoft Solutions, Inc.
Giese's expertise spans from technical to managerial work, and her drive for transportation safety has been clear throughout her career. While helping to plan for the Vancouver Winter Olympics, she developed an innovative methodology for pedestrian and vehicle movements that resulted in a paper submittal and being awarded the Young Consultant of the Year by the Institute of Transportation Engineers (ITE). The methodology was later used at the London Summer Olympics in 2012. Giese's impact has remained global as she managed the development of globally-used software and several project contracts worth millions of dollars.
Currently Giese works to shape the future of transportation, guiding strategies for business and technology development in the United States. She strives to be a role model for those choosing their own career path, and actively assists women in the transportation engineering field. Outside of her position, Giese volunteers as a trained Court Appointed Special Advocate (CASA), representing abused and neglected children. At Iowa State, Giese was a part of several organizational memberships, including the Society of Women Engineers at Iowa State, and the Transportation Student Association at Iowa State and continues to be involved in organizations as a professional.