Thomas H. MacDonald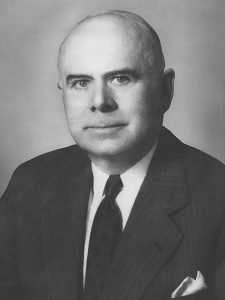 Key contributions in shaping the nation's highway and road systems, leading an era of highway progress unheard of at the time, and establishing a professional highway commission for the state of Iowa
Inducted 2021
Thomas MacDonald graduated with a bachelor's degree in civil engineering from Iowa State College in 1904; he came back to get his Ph.D. in engineering in 1928.
After graduating with his bachelor's, he went to work for the Iowa State Highway Commission (ISHC) as the assistant in charge of the Good Roads Investigation. In 1905, he moved up to be the chief engineer with oversight of the State Road Program. MacDonald served the department until 1919. He became chief of the U.S. Bureau of Public Roads (BPR) and remained in the position until 1939.
In 1924 he worked with the National Research Council to create a Highway Research Board, an agency that has continued into the 21st century as the Transportation Research Board, serving on its executive committee until his retirement. He directed national road policy for 34 years, serving under seven different U.S. Presidents.
During the Great Depression and World War II, MacDonald promoted road building for economic stability and national security. After World War II, he proposed a program for interstate highways, and his idea became the model for the Federal Interstate Highway System. Thus, he is known as the "father of the nation's highway system." He received the National Medal of Merit from President Truman in 1946, He also received the Anson Marston Medal from Iowa State. He was instrumental in keeping the ISHC in Ames, Iowa.