CCEE Distinguished Alumni Inductee
Charles W. Wilson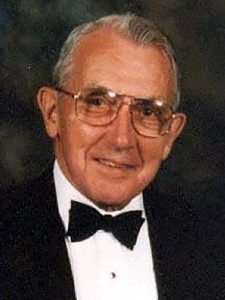 Leadership, innovation and expansion of a regional company in the structural precast and architectural industries, and active engagement in local community
Inducted 2021
Charles Wilson graduated from Iowa State with a bachelor's in civil engineering in 1941 and had a 60-year career in the field. His career began at his family's small concrete manufacturing company in Red Oak, Iowa. At the time, there were only about six employees. He enlisted in World War II and trained as an engineer on B-29 Bomber gun-sight control systems; he served as a staff sergeant in the South Pacific and was honorably discharged in 1946.
After his time in the military, he went back to his family business as a foreman. Wilson worked up the ranks using his engineering skills and helping produce concrete products in a post-war reconstruction. He eventually became president and CEO of the company in 1950. He was responsible for expanding to the Omaha/Council Bluffs metro area, eventually having manufacturing plants in four Midwestern states. He sold the company at age 81 and stayed active in engineering. In retirement, he helped develop the YMCA Montgomery Technology Center and a performing arts center in his hometown of Red Oak.
Throughout his career, he was part of the Iowa Manufacturing Association and served as president. He received a medal of honor for extraordinary service to PCI and the precast/prestressed industry in 1994. Wilson was one of only 50 distinguished innovators in 50 years, being named a Titan at the 50th anniversary of the precast/prestressed industry in 2004.