CCEE Hall of Fame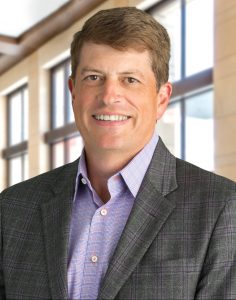 Nationwide construction leadership and management, impact with real estate development, and the Construction Engineering program
Inducted 2022
Jeff Smith graduated with his bachelor's degree in 1983. Smith grew up as one of six kids and created funds for college by forming a summer home improvement company with a fellow construction engineering student.
After graduation, Smith went right into the workforce as an estimator and project manager with PCL Construction. He found his place at Ryan Companies and has been there since 1986. He has had a variety of positions and was instrumental in leading the company's expansion to 15 offices nationwide. In 2011 Smith was named National President of Ryan Companies, and with his leadership, he grew the business from $500 million to over $4 billion in 2021.
Smith co-authored a web-based proprietary scope, site selection, and pricing tool, helping real estate professionals make decisions quicker and at less cost.
He has been instrumental in hiring Iowa State graduates in co-ops and internships; 100/1500 employees at Ryan Companies are Iowa State graduates. Smith has also taught a CCEE collective insights class and presented the Scott Kinkade Memorial Scholarship selection.