About the Program
An undergraduate degree in environmental engineering provides students with the engineering and science knowledge necessary to pursue successful careers in environmental engineering firms and related professions – in both the public and private sectors – as well as address critical challenges related to land, air and water quality.
Why Environmental Engineering?
Undergraduate students in the environmental engineering bachelor's degree program will complete a curriculum covering the engineering and science knowledge necessary to design and implement effective, affordable solutions for environmental challenges involving water, air and land. These new graduates will have a strong foundation necessary to solve complex current and future infrastructure challenges within the diverse areas of environmental engineering.
Graduates of this program will be prepared to work in environmental engineering positions within the private and public (e.g., federal, military, state and community) sectors that deal with pollution and contamination in all aspects of the built and natural environment. Examples of this work include analyzing and designing systems for water supply and distribution, collecting and processing waste, controlling air quality, recycling residuals, and protecting public health. Students mainly interested in environmental issues in agricultural applications should also consider the programs available in the Department of Agricultural and Biosystems Engineering.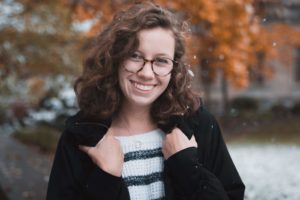 "I think why I'm so excited about the program is it gives me a chance to focus on what I'm passionate about — going in-depth on how engineering can be used to help the planet."
-Sydney Hedgepeth, senior, environmental engineering
Questions?
Contact the CCEE Advising Center
515-294-9926