The Department of Civil, Construction and Environmental Engineering contains two academic programs – civil engineering and construction engineering – both nationally accredited by ABET. Below is a brief history of the department and its programs.
CIVIL ENGINEERING
In 1869, Iowa Agricultural College (now called Iowa State University) began offering classes in engineering and liberal arts and sciences. Civil engineering started in 1871 as one of two engineering curricula – the other being mechanical engineering. The first member of the civil engineering staff was George W. Jones, Jr. Classes were first held in Old Main, the original building on campus (no longer exists) that held all classes. Classes in drawing, railways, sanitary (later environmental), and surveying were first offered in the civil engineering curriculum.
In 1872, Iowa State graduated its first class, including three civil engineering graduates: Luther Foster, Henry Page and John Stevens.
In 1883, civil engineering classes moved to Engineering Hall, the site of today's Marston Hall.
In 1892, Elmina T. Wilson became the first woman to receive a Bachelor of civil engineering degree at Iowa State College. Two years later she earned a Master of Science, becoming the first woman to do so at Iowa State College. Soon after, from 1893 to 1904, she served as the first woman faculty member in civil engineering. Elmina collaborated with Professor Anson Marston on a water tower project just west of Engineering Hall in 1895. This became Marston Water Tower, completed in 1897, and the first elevated steel water tower west of the Mississippi River. The tower served as Iowa State College's (University) water supply until 1978. In 2007 Marston Water Tower was named an "American Water Landmark" by the American Water Works Association.
In 1896 Elmina's sister, Alda Wilson, received a civil engineering degree. Elmina and Alda pursue advanced education at Cornell University and Massachusetts Institute of Technology, respectively. Elmina became involved in the design of Iowa State's famous Marston Water Tower and some of America's famous landmarks, including the Flatiron Building in Manhattan, New York.
The civil engineering program attained department status in 1898. Six years later, the first degree specialization was offered – highways (highways meant some transmissible land route by automobile). Instructor Thomas H. McDonald both taught highways and laid the foundations for the Iowa road program. In 1924, the first Master's degrees in civil engineering were conferred upon two men. The first doctoral degree was conferred in 1927.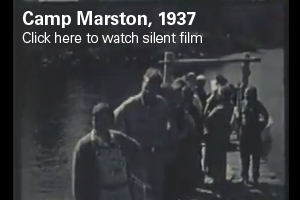 The civil engineering program was accredited in 1936 by the Engineers' Council for Professional Development (ECPD). ECPD is now known as the Accreditation Board for Engineering and Technology (ABET).
Screenings from the Soil Research Lab (1957-1967), a newsletter by Anson Marston Distinguished Professor Richard Handy
In 1971, Engineering Building No. 2 was built to accommodate civil engineering and aerospace engineering instruction and research. In 1973, this building was named Town Engineering Building after George R. Town, dean of the College of Engineering from 1949 to 1970. Town Engineering Building exclusively housed civil and construction engineering curricula starting in 1999, when aerospace engineering and engineering mechanics moved to Howe Hall.
The Department of Civil Engineering was changed to the Department of Civil and Construction Engineering in 1988. On March 12, 2003, the Iowa Board of Regents approved a new department name – Department of Civil, Construction and Environmental Engineering – to reflect environmental emphases in the civil engineering program.
The department has offered an international exchange program with University of Edinburgh (Scotland, U.K.) starting in 1998. "It's getting to be a smaller and smaller world, and international experience will help students be more marketable," says Anson Marston Distinguished Professor Emeritus F. Wayne Klaiber. In the first year, the civil and construction engineering department invited University of Edinburgh undergraduate students Yosuke Sato and Matt Cunningham.
By 2001, several Town Engineering Building labs were renovated and added, thanks to generous alumni and faculty support. Such labs include the Gerald and Audrey Olson Geotechnical Lab, Wallace W. and Julia B. Sanders Structural Engineering Lab, Portland Cement Concrete Pavement Research Lab, Construction Engineering Capstone Classroom (renamed Thomas and Ro Jellinger Lab in 2010) and the Joseph C. and Elizabeth A. Anderlik Environmental Engineering Lab. View all CCEE laboratories here.
Graduate courses were first offered online in 2005 through Engineering Distance Education. In 2012 this service became Engineering-LAS Online Learning, allowing courses in the College of Engineering and College of Liberal Arts and Sciences to be taught online. The ease of online education allows CCEE students to remain at home or near a job without necessarily coming to campus.
In 2011, CCEE and other Iowa State engineering departments began collaborating on an interdisciplinary, comprehensive curriculum on wind energy, known as the Wind Energy Initiative. Iowa State soon became the first U.S. institution to offer a PhD program in wind energy. The goal of the Wind Energy Initiative is to set the nation's achievement of 20 percent energy produced from wind by 2030.
Past Civil Engineering Heads/Department Chairs
CONSTRUCTION ENGINEERING
September 1960 was the birth of the Iowa State building construction curriculum. Headed by Thomas Jellinger, the original concept was to teach construction engineering based on opinions and ideas from people working within industry. In 1963, Iowa State graduated its first students in what was called Bachelor of Science in engineering operations: Bruce Byers, Jack Gethmann, Terry McGiverin and John Sorenson. By 1970 the building construction program became the construction engineering program, which was first implemented in the 1971-73 Iowa State University General Catalog. Two emphases in construction engineering were in place: building and heavy/highway. A mechanical emphasis was added to the construction engineering program in the 1973-75 Iowa State University General Catalog. In fall 1976, the program was accredited by the Engineer's Council for Professional Development, now called ABET.
Although part of the department, faculty members have been and continue to be appointed "professors-in-charge" of the construction engineering program and its associated activities. Below is a history of construction engineering professors-in-charge:
Thomas Jellinger, 1960-1978 (taught 1960-1981)
John Russo, 1978-1982 (taught 1972-1982, 1983-1986)
Jerry Chase, 1982-1986 (taught 1977-1996)
James Rowings, 1987-1996, 2001 (taught 1986-2001)
Mark Federle, 1997-1999 (taught 1990-2001)
Charles Jahren, 2001-2006 (taught 1993-present)
Edward Jaselskis, 2007-2011 (taught 1989-2011)
Charles Jahren, 2011-current (taught 1993-present)
The construction engineering program at Iowa State has an ever-evolving curriculum. Instructors adapted courses to best suit the contemporary construction climate. In 1991 the program was recognized as the top construction engineering program in the country by Gourman Report and as one of the top construction programs by Engineering News Record.
IOWA STATE, TRANSPORTATION RESEARCH BOARD and InTRANS
Iowa State and the Transportation Research Board (TRB) of the National Academies have partnered since TRB's inception. In 1920, the federal government appointed Iowa State engineering dean and Professor Anson Marston as Highway Research Board's (what TRB was first known as) first chairman of the Executive Committee. He served a two-year term. Professor Marston's commitment to highway improvement placed Iowa State College at the forefront of national infrastructure innovation.
National highway improvements started in Iowa. Each spring in the 1920s, rains and melted snow caused roadways to mud up, making automobiles difficult to maneuver and travel from one place to another. With overwhelming farmer support, the state of Iowa granted Marston and Iowa State researchers a highway improvement project. Marston proposed a drain pipe, a culvert system that removed water from roads. Marston developed an earth load test, known as Marston load, for buried pipes that drained water from roads, preventing deep mud from forming on highways. Applying this performance specification significantly advanced highway technology.
A few years later Marston recruited instructor Merlin G. Spangler (BSCE 1919) to solve the Marston load question on flexible pipes, an invention made since Marston developed a rigid pipe system for drainage. Spangler discovered the pipe-soil interaction at the sides of flexible pipes, demonstrating that good soil embedment is the basic structure of a drainage conduit.
Marston and Spangler's work served as inspiration for a larger highway system, and eventually The Interstate Highway System we know today.
In 1983, the Federal Highway Administration established the Local Transportation Information Center at Iowa State University as one of the 10 original Rural Technical Assistance Programs. Given major grant awards and increasingly diverse programs, the center changed its name to Midwest Transportation Center in 1988, then to Center for Transportation Research and Education in 1995. Its current name, Institute for Transportation (commonly known as InTrans), was implemented in 2009.
Today, InTrans oversees 11 centers and programs, including:
Bridge Engineering Center
Center for Earthworks Engineering Research
Center for Nanotechnology in Cementitious Systems
Center for Weather Impacts on Mobility and Safety
Center for Transportation Research and Education

Iowa Pavement Management Program
Iowa Traffic Safety Data Service
Roadway Infrastructure Management and Operations Systems
Sustainable Transportation Systems Program
National Center for Wood Transportation Structures
National Concrete Pavement Technology Center
Asphalt Materials and Pavements Program
Construction Management and Technology
Iowa Local Technical Assistance Program (LTAP)
Statewide Urban Design and Specifications