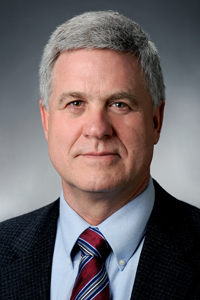 Terry J. Wipf
Greenwood Department Chair in Civil, Construction and Environmental Engineering
Professor
Main Office
390 Town Engr
Ames, IA 50011-3232
Phone: 515-294-6979
Fax: 515-294-7424


Education
Ph.D. Mechanics and Energetics, University of Nebraska-Lincoln, 1983
M.S. Civil Engineering, University of Nebraska-Lincoln, 1979
B.S. Civil Engineering, University of Nebraska-Lincoln, 1974
Interest Areas
Bridge engineering
Nondestructive evaluation
Structural health monitoring
Timber bridges
Brief Biography
Honors and Awards
Eldon J. Yoder Award for Best Paper at the 9th TRB International Conference on Low-Volume Roads, 2007
Pitt-Des Moines Endowed Professorship in Civil Engineering, 2002
David R. Boylan Eminent Faculty Award for Research College of Engineering, 2000
Young Engineering Faculty Research Award - College of Engineering, 1993
Charles W. Schafer Award for Excellence in Teaching, Research and Service - Civil Engineering Department, 1987
Boeing Corporation Award - Civil Engineering Department, 1986
Chi Epsilon - 1993
Sigma Xi - 1984
Selected Publications
Lu, P., B.M. Phares, L.F. Greimann and T.J. Wipf. "A Bridge Structural Health Monitoring System Using Statistical Control Chart Analysis", Transportation Research Record 2172, Journal of the Transportation Research Board, Washington, D.C., 2010, p. 123-131.
Fanous, F., J. May and T. Wipf. "Development of Live Load Distribution Factors for Glued-Laminated Timber Girder Bridges", Accepted for Publication; American Society of Civil Engineers (ASCE) Journal of Bridge Engineering (In-Press).
Abu-Hawash, A.H., B. Keierleber, T.J. Wipf and S. Sritharan, "Review of Iowa's Experience with UHPC (Ultra High Performance Concrete)", Third International fib Congress, PCI Convention and Bridge Conference, May 29-June 2, 2010, Bridge Conference Proceedings. 2010 fib Congress: CD-10324-10, Washington, D.C.