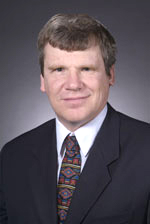 Peter C. Taylor
Research Associate Professor
Director, National Concrete Pavement Tech Center
Main Office
2711 S Loop Dr
Ames, IA 50011-1295
Phone: 515-294-9333
Fax: 515-294-0467


Education
Ph.D., Civil Engineering, University of Cape Town, 1995
B.S., Civil Engineering, University of Cape Town, 1982
Interest Areas
Concrete Materials
Durability
Mixture Proportioning
Pavements
Brief Biography
Research related to materials aspects of concrete technology
Performance Engineered Mixtures

A national program to change the way concrete is specified and prepared (Federal Highway Administration [FHWA] and Transportation Pooled Fund [TFP] Program)
Optimizing concrete mixtures for performance and sustainability

FHWA Cooperative Agreement

Investigation of deterioration of joints in concrete pavements

TPF and FHWA Cooperative Agreement

Tests or standards to identify compatible combinations of individually-acceptable concrete materials (FHWA [CPTP Task 4], Cooperative Agreement No. DTFH61-03-X-00102)

Improved specifications and protocols for acceptance tests on processing additions in cement manufacturing (National Cooperative Highway Research Program, Project No. 18-11)
---
Honors & Awards
Iowa Ready Mixed Concrete Association, Concrete State Award for Technical Achievement, 2017
Portland Cement Association, PCA Education Foundation J.P. Gleason Fellowship Award, 2015
Concrete Society of Southern Africa, Western Cape Branch, Annual Grant for Post-Graduate Research in Concrete, 1990
Selected Publications
Jiake Zhang, Peter C. Taylor, and Caijun Shi, "Investigation of Approaches for Improving Interfacial Transition Zone-Related Freezing-and-Thawing Resistance in Concrete Pavements ", ACI Materials Journal, vol. 112, no. 5, pp. 613-618, September-October 2015.
Taylor, P.C., Concrete Curing, CRC Press, Sept 2013, ISBN: 978-0-415-77952-4.
Yurdakul, E., Taylor, P.C., Ceylan, H., and Bektas, F., "Effect of Water-To-Binder Ratio, Air Content, and Type Of Cementitious Materials On Fresh And Hardened Properties Of Binary And Ternary Blended Concrete" American Society of Civil Engineers, Journal of Materials in Civil Engineering, , vol. 25, no. 12, pp. 1840-1851.
Wang, X., Wang, K., Bektas, F., and Taylor, P. Drying Shrinkage of Ternary Blend Concrete in Transportation Structures," Journal of Sustainable Cement-Based Materials Volume 1, Issue 1-2, June 2012, pages 56-66.
Yurdakul, E., and Taylor. P.C., "Performance Engineered Mixtures for Concrete Pavements in the US," 12th International Symposium on Concrete Roads, Prague, 2014.
Xuhao Wang, Peter Taylor, Kejin Wang and Malcolm Lim, "Monitoring of Setting Time of Self-Consolidating Concrete Using Ultrasonic Wave Propagation Method and Other Tools," Magazine of Concrete Research, vol.68, no.3, pp. 151-162, June, 2015.