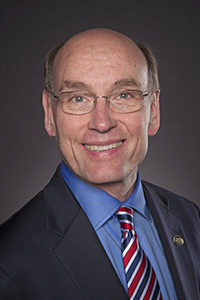 Larry W. Cormicle
Senior Lecturer
Weitz Faculty Fellow in Construction Engineering
Civil, Construction and Environmental Engineering
Main Office
454 Town Engr
Ames, IA 50011-1066
Phone: 515-294-8299
Fax: 515-294-3845


Education
M.S. Civil Engineering, Construction Engineering and Management - Iowa State University, 2010
B.S. Construction Engineering - Iowa State University, 1978
Interest Areas
Project management
Construction project planning and scheduling
Project delivery methods
Engineering education research
Leadership
Coaching
Brief Biography
Cormicle joined the Iowa State University (ISU) Department of Civil, Construction and Environmental Engineering (CCEE) in 2002. Before coming to ISU, Cormicle spent almost a quarter century in industry constructing large commercial, retail and high-rise buildings. Cormicle arrived at ISU with 12 years of teaching experience at Triton College. He currently teaches construction planning and scheduling course and an advanced project management capstone course to construction engineering seniors. He serves as chair of the construction engineering curriculum committee in the department. He coaches the Associated Schools of Construction (ASC) competition teams at the CCEE department. Those teams have placed first 37 times at the ASC Region IV Student Competition. Cormicle advises the ISU Associated General Contractors (AGC) Student Chapter and the ISU National Association of Home Builders (NAHB) Student Chapter.  His passion is leadership, coaching and preparing students to be great builders of projects. Cormicle has been a registered professional engineer of construction engineering in Iowa since 1984.
---
Honors and Awards
Weitz Faculty Fellow in Construction Engineering, 2014-present
Superior Engineering Adviser Award, College of Engineering, 2016
Glenn H. DeStigter Scholar in Construction Engineering, 2007- 2014
Outstanding Educator Award - Associated Schools of Construction, 2012
Outstanding Adviser Award, Associated General Contractors student chapter - Engineering Student Council, 2010 - 2012
Engineering Student Council Leadership Award, 2004, 2006, 2007, 2008
Outstanding Educator Award - Associated General Contractors of America Education and Research Foundation, 2007
Memorable Teacher Award, Center for Excellence in Learning and Teaching - Iowa State University, 2007
Outstanding Faculty Member Award - Interfraternity Council, 2005
Joseph C. and Elizabeth A. Anderlik Faculty Award for Excellence in Undergraduate Teaching - Iowa State University (Dept. of Civil, Construction and Environmental Engineering) 2007
Selected Publications
Jahren, C.T., Karabulut-Ilgu, A, Jeong, D., Cormicle, L., (2015). "A Case Study of Hybrid Learning Implementation in Construction Engineering." 5th International/11th Construction Specialty Conference, Canadian Society of Civil Engineers, Vancouver, British Columbia, June 8th to June 10th, 2015.