Award Winners
CCEE faculty, staff and students have always challenged themselves to be the best and make a difference in the lives of others.
The Award Winners
Building Town Engineering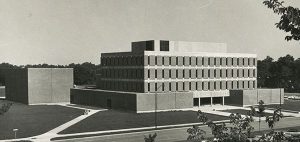 Engineering Building No. 2 was part of an eight-year capital improvement plan prepared in 1963 to keep up with continued growth in the college.
Timeline
Civil Engineering
In 1971, Engineering Building No. 2 was built to accommodate civil engineering and aerospace engineering instruction and research. In 1973, this building was named Town Engineering Building after George R. Town, dean of the College of Engineering from 1949 to 1970. Town Engineering Building exclusively housed civil and construction engineering curricula starting in 1999, when aerospace engineering and engineering mechanics moved to Howe Hall. The department of civil engineering was changed to the department of civil and construction engineering in 1988. On March 12, 2003, the Iowa Board of Regents approved a new department name – Iowa State University's Department of Civil, Construction and Environmental Engineering – to reflect environmental emphases in the civil engineering program.
By 2001, several Town Engineering Building labs were renovated or added to the original building, thanks to generous alumni and faculty support. Graduate courses were first offered online in 2005 through Engineering Distance Education. In 2012 this service became Engineering-LAS Online Learning, allowing courses in the College of Engineering and College of Liberal Arts and Sciences to be taught online. Starting in the early 2000s, ISU CCEE began collaborating with multiple departments on campus to bring interdisciplinary comprehensive curriculum to undergraduate and graduate students. The department currently offers study abroad opportunities in the United Kingdom and Italy to broaden the global opportunities available to engineering students.