Date/Time
Date(s) - 17 Sep 2021
10:00 AM - 1:00 PM
Location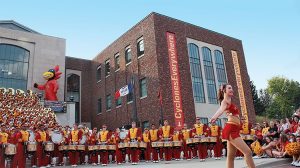 Friday, Sept. 17
10 a.m. – 1 p.m.
Research Symposium and Networking Lunch, ISU Alumni Center; $25 (refreshments, lunch included)
10-11:45 a.m.: Research Symposium; no charge
11:45-1 p.m.: Networking Lunch; $25
CCEE students and faculty pursue innovative research that impact the lives of people all over the world every day. Join us for a showcase and celebration of graduate and undergraduate research activity. Following the research symposium, network and engage with current students, industry partners and alumni over lunch.
Afternoon Activities
Choose your afternoon adventure from two different CCEE hosted events or create your own by exploring local attractions.
Hosted Option A:
2 p.m.
Golf Tournament, Coldwater Golf Course (Ames); $75
Gather a team of your friends or colleagues and join us for fun and competition at this 9-hole, scramble golf tournament. Shotgun start at 2 p.m.
Hosted Option B: 
1 p.m.
Weitz Site Tours, various locations; $10 (transportation included)
Tour three different project sites, courtesy of the Weitz Company, on the way to the evening social. Depart from the Alumni Center and head to the ISU Vet Diagnostics Lab site in Ames, followed by the IBEW Office site in Ankeny, and then to an office renovation site in downtown Des Moines. The shuttle will take you directly to the evening social at the Botanical Gardens and then back to Ames afterwards.
Local Area Attractions:
Blank Park Zoo
Science Center of Iowa
Living History Farms
Boone & Scenic Valley Railroad
Center Grove Orchard
Reiman Gardens
Interest specific:

The Renaissance Faire at Sleepy Hollow
Selfie WRLD
Lauridsen Skatepark
5-7:30 p.m.
Social Event, Greater Des Moines Botanical Gardens; $25 (appetizers, drink ticket included)
Enjoy drinks and appetizers while socializing and networking with friends and new acquaintances. Learn about the department's rich history while enjoying the beautiful botanical gardens.
Registration now open! Click here.
150th Anniversary Bundle – $150!
Attend both evening socials, both networking lunches, and the banquet and save $25! Add the code 150BUNDLE at checkout.