Around the nation and the world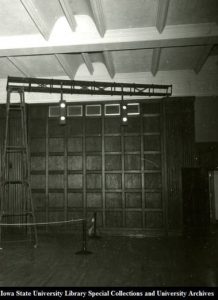 1960, The fifty-star flag of the United States is debuted in Philadelphia, Pennsylvania, reflecting the admission of Hawaii into the union in 1959.
1962, The Cuban Missile Crises begins.
1967, The first Super Bowl is held in Los Angeles between the Green Bay Packers and the Kansas City Chiefs with Green Bay winning 35-10. Over fifty-one million people watch on television.
Around campus
1960, Construction Engineering program officially started. Started by W.A. Klinger; Thomas C. Jellinger was head of the program.
1961, A proposal to allow telephones in dormitory rooms is met with resistance and concern that phones are an "unnecessary frill" but were added in the fall.
1962, A comprehensive plan for protecting Iowa State students in case of nuclear attack is developed.
1963, First four graduates received Bachelor of Science degrees in Engineering Operations, eventually the Construction Engineering Program.
1963, The Center for Industrial Research and Service (CIRAS), is founded, with a mission "to enhance the performance of Iowa industry."
1965, One of the largest nuclear reactors in the nation dedicated to basic research, the Ames Laboratory "went critical" Feb. 17, 1965.
1968, The design for Hilton Coliseum is approved by the Board of Regents. Grades are available to the parents of students if they write the Office of Student Records.
1969, The Construction Engineering Advisory Council Committee was established by Professor Tom Jellinger in about 1969. The first committee included the following: David Culver of Bechtel, San Francisco, California; Kenneth Gethmann of Gethmann Construction, Gladbrook, Iowa; Edwin Law of the Law Company, Wichita, Kansas; Leo Cagley of Green Construction, Des Moines, Iowa; William Kuhne-Simmons, Champaign, Illinois.
1969, The first issue of the Erector Set (annual ConE alumni newsletter) was published.