Visiting CCEE
by Chris Neary | September 16, 2014 7:18 am
Welcome to CCEE at Iowa State University! Below are resources you may find helpful during your visit.
Iowa State University is a smoke-free campus[1].
Be mindful of the safety and well-being of children in hazardous, professional environments[2].
Explore campus from the Iowa State University Online Campus Map[3].
Visitors must obtain a Visitor Parking Permit[4] and shall park in General Faculty/Staff yellow lots with that permit.

If you are visiting Town Engineering Building, coordinate with your department contact prior to arrival, if possible. When you arrive at either Lot 10 or Lot 11 (north half), your department contact should have a visitor pass for you. Note: You may only park at spaces within the yellow General/Staff Lots. A map below illustrates those yellow locations. In Lot 11 a yellow General/Staff Lot sign separates general parking from reserved parking.
If a department contact is not readily available, you may obtain a Visitor Parking Permit at the ISU Parking Division, located at the southwest entrance of The Armory on Monday-Friday between 7:30 a.m. and 4 p.m. (marked by "Regular Hours" on map below). To obtain a visitor pass after hours, go to the Police Division office at the northwest entrance of The Armory (marked by "After Hours" on map below).
You also may park at the pay-per-lot 21, which is located across Bissell Road just west of The Armory. Parking in this lot is $0.75/hour, which you pay at a kiosk on the south end of pay-per-lot 21 upon arrival.
Visitors are not permitted to park in Residence Hall staff lots, Ames Lab lots, Reserved Faculty/Staff (red) lots, and 24-hour Reserve Lots.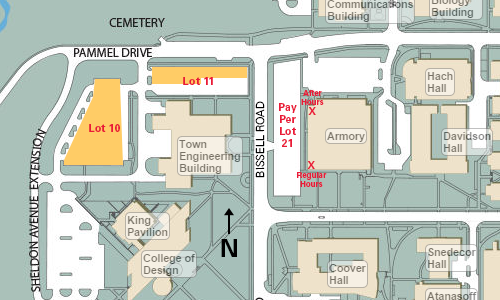 [5]
For questions on CCEE Visitor policies, contact the CCEE Main Office at 515 294-3532, or stop by 394 Town Engineering Building.
For general questions on CCEE safety and health, email cceesafety(AT)iastate.edu[6].
Endnotes:
Iowa State University is a smoke-free campus: http://www.policy.iastate.edu/policy/smoking
Be mindful of the safety and well-being of children in hazardous, professional environments: http://www.policy.iastate.edu/policy/children/workplace
Iowa State University Online Campus Map: http://www.fpm.iastate.edu/maps/
Visitors must obtain a Visitor Parking Permit: http://www.parking.iastate.edu/visitor
[Image]: http://www.ccee.iastate.edu/files/2014/09/Town-Area-Parking-Lots-4.png
cceesafety(AT)iastate.edu: mailto:cceesafety@iastate.edu
Source URL: https://www.ccee.iastate.edu/safety-and-health/visiting-ccee/
---