Expertise in structural engineering, development of aircraft design and analysis, and leadership in the engineering industry
Inducted 2022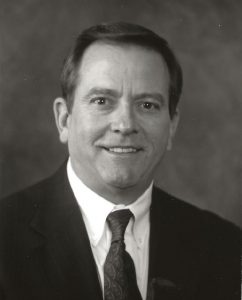 Jack F. McGuire graduated with a bachelor's degree in Civil Engineering in 1963 and joined Boeing that same year. He remained with Boeing for 43 years, beginning as a structural engineer. He performed structural analysis on several Boeing models, including 707, 727, 737 and 757, along with testing and fleet support.
He advanced to Director of Structures Engineering in 1990 where he led the development and implementation of aircraft structures engineering design and analysis practices, materials development and the structural testing for all models of commercial aircraft. From 1999-2006, McGuire was the Director of Engineering Technology Development, responsible for new design/manufacturing practices for increased safety and performance and the acquisition of technology from external suppliers, like NASA. He produced and presented over 40 technical papers and influenced aircraft safety for generations to come. Since 2006, McGuire has been a structural aerospace engineering consultant.
For decades McGuire has continued his passion for being a Cyclone, serving Iowa State in many roles, including the Boeing/University Coordinating Committee chairman. He has also been involved with many committees, serving the students and university on advisory boards with the College of Engineering, the Institute of Physical Research and Technology, CCEE, and has engaged with ASCE and AIAA students throughout the years.
He has earned many honors and awards for his contributions from Iowa State, notably the Professional Achievement Citation in Engineering (PACE) award, an Eminent Engineer Award from Tau Beta Pi National Engineering Honor Society and is a Distinguished Alumnus in the Department of Aerospace Engineering.